Ok, quick one for the Fourth, since I'm already halfway out the door. Tl;dr version: There will be funnel cakes. FUNNEL CAKES EVERYWHERE.
Tonight – Downtown Fort Myers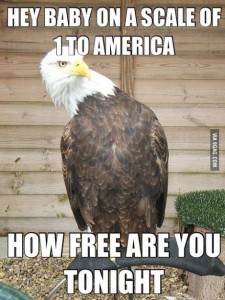 ArtWalk is still scheduled, being the first Friday and all (6-10PM). Be sure to check out Bootlegger's (G)Alle(r)y. "Freedom Fest" is from 5-11PM, with five stages of (undefined) music, food trucks, and craft beer tasting. Fireworks at 9:30PM over the river.
Tonight – Downtown Cape Coral
First things first, the Parkway Bridge (College/Cape Pkwy) will be CLOSED, so hit the Midpoint, or even the 41 bridge if you want to avoid Midpoint traffic. Cape Coral is up to its usual Red White and Boom party with bands, a 5k race and more food trucks (Man, I love some truck food). Carnival of Soul is playing at Rack'ems, and the Cape location of Ford's Garage is celebrating their first anniversary with a craft beer festival.
Tomorrow Night – Around Town
HOWL Gallery – SWFL Lives Group art show at 7pm (Free)
United We Stand – Circus Arts Event – Live painting, Lily Hatchett's Paper Grotto, live music from the Freecoasters and more at Ter-Tini's ($10) 
Heavy Heavy Show at Nice Guys Pizza in Downtown Cape with Black Falcon, Remorse, Gross, and Ex-Breathers ($5)
Code Zero 10 Year Anniversary show at Rack'ems with Undead Idols, Riot Agents, and The Jerks (Free)